If you want to work as a nurse in Australia, you're taking the first step towards joining one of the most renowned healthcare systems in the world. Becoming a licensed nurse in Australia, nevertheless, calls for careful planning and adherence to local nursing guidelines. We'll lead you through the procedures for applying to be a nurse in Australia in this thorough guide, making sure you're ready to fulfill the high requirements of Australian healthcare.
Understanding the Australian Nursing Standards
It's important to comprehend the relevance of Australian nursing standards before we proceed with the application procedure. The Nursing and Midwifery Board of Australia (NMBA), which sets these standards, describes the anticipated knowledge, skills, and conduct of registered nurses in the nation. They act as the standard for nursing practice, ensuring that patients receive secure and efficient care.
Professional practice, critical thinking, communication, and cultural competence are only a few of the areas covered by the Australian nursing standards. As a prospective nurse in Australia, you must comply with these requirements in terms of your training, work history, and application procedure.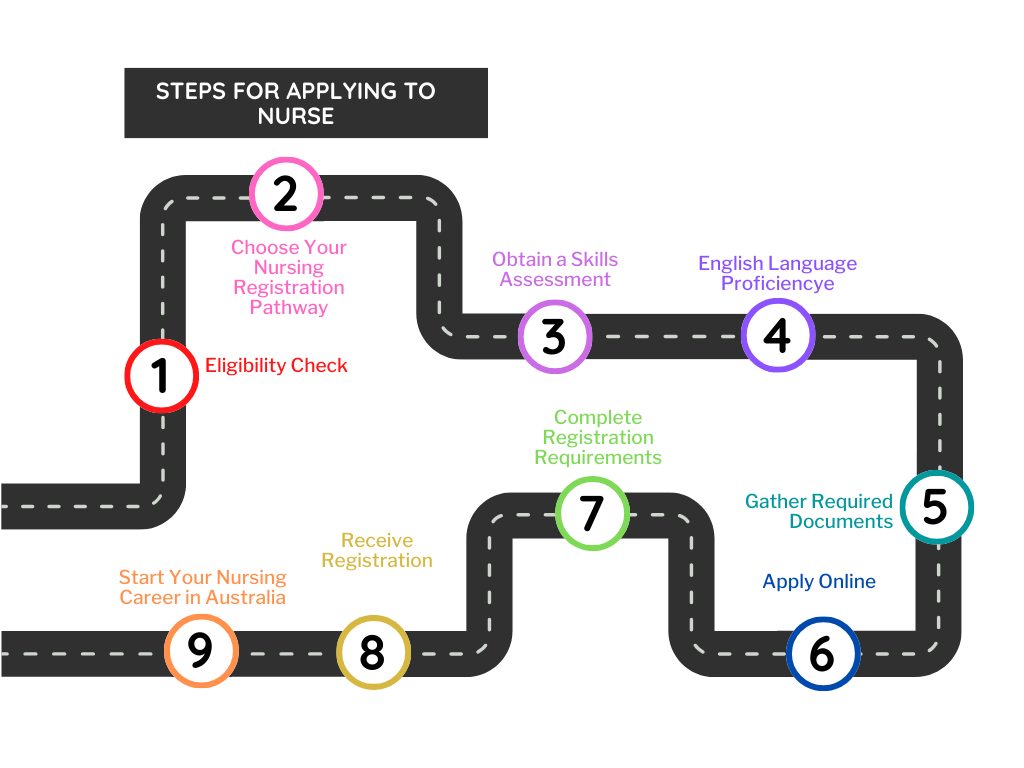 Step 1: Assess Your Qualifications
To become a nurse in Australia, you must first evaluate your qualifications. The Australian Health Practitioner Regulation Agency (AHPRA) is in charge of determining whether international nursing degrees are acceptable. To demonstrate that your credentials meet Australian standards, you must present transcripts and certificates as proof of your schooling.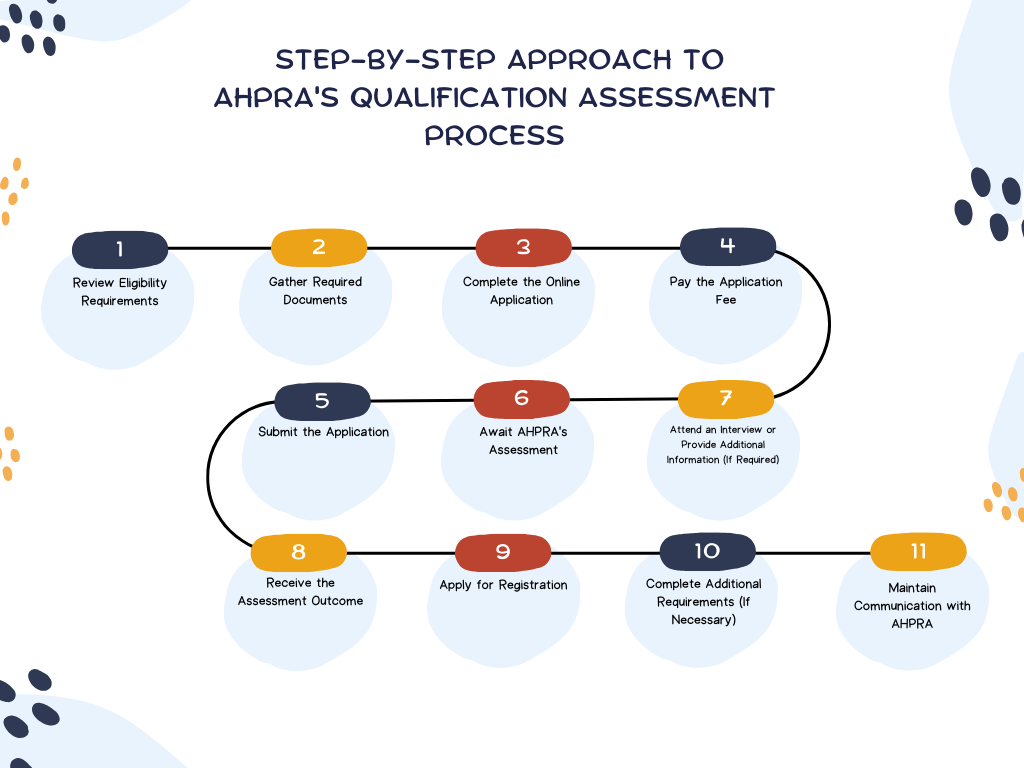 Step 2: English Language Proficiency
Australia requires that nursing candidates be fluent in English. You must take a recognized English language test, such as the Occupational English Test (OET) or the International English Language Testing System (IELTS), to demonstrate your proficiency in the language. To satisfy the Australian nursing requirements, it is crucial to receive the required marks.
Step 3: Apply for Registration
After evaluating your credentials and demonstrating that you have the necessary English language proficiency, you can submit an application for registration with AHPRA. All nurses in Australia are required to register, and several nursing specialties, including general nursing, mental health nursing, and others, have their own certification processes.
Make sure your application contains all required documentation, such as identification documents, certifications of qualifications, and English language test results. Your application will be examined by AHPRA, and if approved, you will be given temporary registration.
Step 4: Complete a Bridging Program
International nurses frequently need to finish a bridge program to bring their knowledge and abilities in line with Australian nursing requirements. You can learn about regional protocols, improve your clinical abilities, and adjust to the Australian healthcare system with the help of these programs. Across the nation, universities and healthcare organizations frequently offer bridging programs.
Step 5: Gain Clinical Experience
Meeting Australian nursing standards requires gaining practical experience. You must finish a predetermined amount of supervised practice time under the supervision of an experienced mentor in order to become a provisionally registered nurse. While preserving patient safety, this practical experience enables you to put your nursing expertise to use in a genuine healthcare environment.
Step 6: National Police Check and Working With Children Check
You must also pass a Working With Children Check and a National Police Check in order to fulfill Australian nursing standards. To make sure you have no criminal history and are qualified to work with vulnerable populations, such as children or the elderly, these checks are crucial.
Step 7: Professional Development
Australian nursing standards place a strong emphasis on ongoing professional development. You must continue your education and training as a registered nurse to keep your knowledge and abilities current. This could be going to seminars, workshops, or getting further education.
Step 8: Apply for Full Registration
You can submit an application for full registration with AHPRA once you have successfully finished your supervised practice and fulfilled all requirements for the temporary registration. This action shows that you have complied with Australian nursing standards and are qualified to work on your own in Australia as a registered nurse.
Step 9: Nursing Care Plan and Planning in Nursing Care Plan
The idea of nursing care plans will come up frequently as your nursing career develops in Australia. To provide patient-centered care and adhere to Australian nursing standards, these plans are necessary. Written documentation that describes the patient's health status, nursing diagnosis, goals, interventions, and evaluation of results is known as a nursing care plan.
In summary, pursuing a nursing profession in Australia is a rewarding journey that calls for effort, dedication, and compliance with the national nursing standards. You may make sure that you are ready to deliver high-quality healthcare and have a significant impact on patients' lives in Australia by following the instructions provided in this handbook.
Conclusion: Mastering Nursing Care Plans for Success
Learning the art of creating nursing care plans is essential if you want to pursue a nursing profession in Australia. These plans serve as the framework for patient care, ensuring that all patients receive thorough, specialized treatment from medical specialists. You'll be more prepared to satisfy Australian nursing standards and excel in your nursing practice if you comprehend the significance of planning in nursing care plan.
Ready to embark on your nursing journey in Australia? Explore our resources on planning nursing care plan to enhance your nursing skills and meet Australian nursing standards. Start your successful career in Australian healthcare today!