Do you need marketing assignment help that stands out? Marketing assignments are an essential part of business education and require a lot of research, creativity, and critical thinking. In this article, we will share some tips and strategies to help you create a marketing assignment that catches the eye of your professor and earns you a good grade.
Introduction
Marketing is an important field of study that promotes products, services, or ideas to a target audience. Marketing assignments can be challenging because they require applying theoretical concepts to real-world scenarios.
Here are some tips for writing marketing assignment: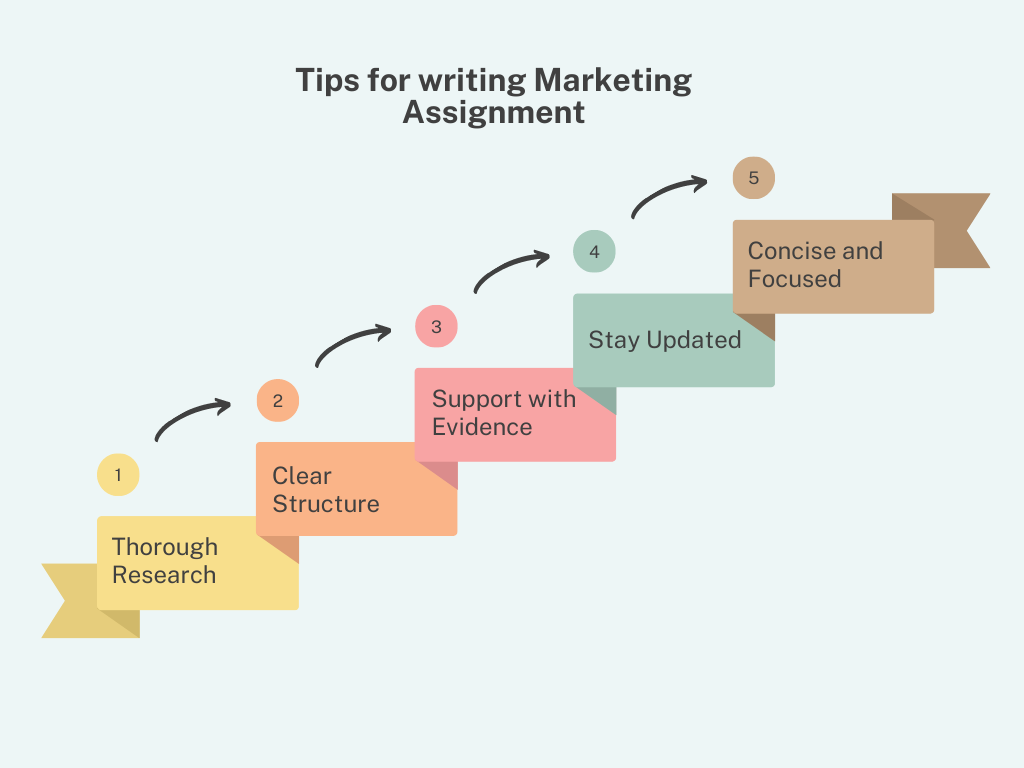 Understanding the Assignment Requirements
The first step to writing a great marketing assignment is understanding the requirements. Read the assignment brief carefully and take note of the guidelines, word count, and referencing style. Ensure you understand the assignment's scope and what is expected of you.
Conducting In-depth Research
Research is a crucial part of writing a marketing assignment. Start by collecting information from credible sources such as academic journals, books, and industry reports. Use keywords related to your topic and filter the search results by relevance, date, and authority. Make sure you take notes and organize your findings.
Analyzing the Target Market
You need to know your target market to create an effective marketing plan. Analyze their demographics, psychographics, and behaviour to understand their needs, wants, and preferences. Gather data using tools such as surveys, focus groups, and customer feedback. Use this information to develop a marketing strategy that resonates with your audience.
Creating a marketing strategy
A marketing strategy is a written document outlining the marketing objectives, plans, and methods for a good or service. An executive summary, situation analysis, marketing mix, budget, and evaluation strategy should all be included in your marketing plan. Make sure your strategy is SMART—specific, measurable, achievable, relevant, and time-limited.
Developing a Catchy Title
Your marketing assignment's success or failure may depend on its title. Your title needs to be intriguing, educational, and pertinent to the content. Use keywords that are attention-grabbing and encapsulate the essence of your subject. Ensure that your title is brief enough.
Creating an Executive Summary That Is Simple and Direct
Your marketing plan is briefly summarised in an executive summary. Included in the summary should include the target market, marketing mix, budget, and evaluation plan for your job. Ensure that your executive summary is captivating, precise, and brief. To arrange the information, use headers and bullet points.
Designing a Professional-looking Layout
The layout of your marketing assignment is important because it affects readability and visual appeal. Use a professional-looking font and formatting style that is easy to read. Use headings, subheadings, and bullet points to break up the text. Use images, graphs, and charts to illustrate your points.
Crafting Well-structured Content
The content of your marketing assignment should be well-structured and logical. Use a clear and concise writing style that is easy to follow. Use transition words and phrases to connect ideas and paragraphs. Make sure your sentences are grammatically correct and free of spelling errors.
Incorporating Visual Aids
Visual aids such as images, graphs, and charts can enhance the effectiveness of your marketing assignment. Use them to illustrate your points, highlight key data, and make your assignment more engaging. Make sure your visuals are relevant, clear, and of good quality.
Using Proper Citation and Referencing
Citation and referencing are important in academic writing to give credit to the sources you have used. Use the referencing style specified in the assignment brief, such as APA or Harvard. Ensure you cite all sources in the text and include a reference list at the end of your assignment.
Editing and Proofreading
Editing and proofreading are crucial to ensure your marketing assignment is error-free and polished. Read your assignment several times and check for spelling, grammar, and punctuation errors. Ensure that your content flows logically and is consistent with the assignment brief. Use tools such as Grammarly and Hemingway to help you with editing.
Getting Recommendations and Editing
You can find areas for improvement in your marketing assignment by asking for comments from your lecturer or peers. Get comments on your homework and turn it in early. Based on your input, make any necessary revisions to your assignment to ensure it satisfies the standards.
By following these marketing assignment writing tips, you can create a marketing assignment that impresses your professor and earns you a good grade.
Bottom Line
Writing a marketing assignment examples in assignment can be challenging, but with the right approach, you can create an assignment that stands out. Start by understanding the assignment requirements, conducting in-depth research, analyzing the target market, and developing a marketing plan. Craft a compelling title, write a clear and concise executive summary, design a professional-looking layout, and incorporate visual aids. Use proper citation and referencing, edit and proofread your assignment, and seek feedback from others. By following these tips, you can create a marketing assignment that impresses your professor and earns you a good grade. Also you take help from Assignment Unlocked Our marketing assignment help services are designed to provide you with high-quality and timely solutions, ensuring that you receive the best grades possible. We provide digital marketing assignment for students services also by availing of our services, you can improve your understanding of marketing concepts, enhance your writing and analytical skills, and save time. Get your assignments unlocked and achieve academic success with our marketing assignment help services.
Let us be your marketing mentors! Whether you're a beginner or seeking to refine your expertise, we've got you covered. Maximize your potential with our Digital Marketing Assignment Help!