Law internships are essential stepping stones on the path to a prosperous career in Australia's legal sector. These chances are frequently sought after by aspiring solicitors and law students who want to develop their professional networks, obtain practical experience, and sharpen their skills. We will examine the relevance of law internships in Australia, the various career pathways they can lead to, and how to maximize these experiences in this thorough guide. This blog will give you the knowledge you need to maximize your potential, whether you're a professional trying to shift into the legal field or a law student eager to start your internship journey.
The Importance of Law Internships
In Australia, law internships—also known as clerkships, paralegal internships, or legal placements—are crucial in determining the course of future lawyers. These internships provide a number of advantages that foster both professional and personal development:
Practical Experience: Law students get the opportunity to apply what they have learned in the classroom to actual legal situations, which helps them better comprehend legal ideas.
Networking Opportunities: Through internships, people can meet seasoned solicitors, judges, and other legal experts, building a vital network for potential future employment.
Resume Building: A legal resume will look good with internship experiences since it shows dedication and useful abilities to future employers.
Career Exploration: Internships provide insight into a range of legal practice areas and aid interns in identifying their interests and preferred career paths.
Mentorship: Many internships include mentoring programs, allowing interns to absorb knowledge from seasoned workers.
Types of Law Internships in Australia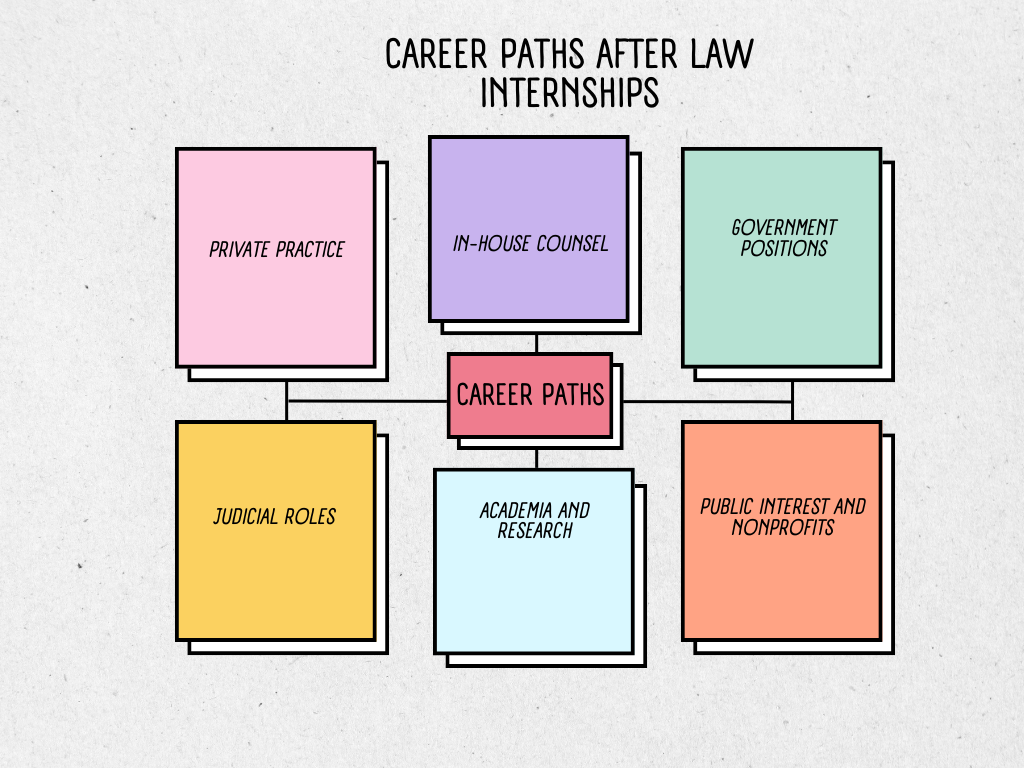 Australia offers a range of legal internship programs to suit different phases in the legal profession. Here are a few typical examples:
Summer Clerkships: These brief summer internships, which are typically taken on by penultimate-year law students, offer a window into a law firm's operations.
Graduate Clerkships: These clerkships frequently result in graduate employment offers for law students in their final year once they successfully complete them.
Paralegal Internships: These internships, which are available to both students and recent graduates, concentrate on certain responsibilities such as legal research, document drafting, and client service.
Government Internships: These internships, which are provided by governmental organizations, give people the chance to work on legal issues associated with advocacy, legislation, and public policy.
In-House Legal Internships: For students interested in corporate law and compliance, corporations and businesses often provide legal internship opportunities.
Unlocking Your Legal Internship
Securing a law internship in Australia can be competitive, but with the right approach, you can stand out:
Research Opportunities: Look at law firms, governmental entities, and other businesses that fit with your career objectives. Adjust your apps as necessary.
Polish Your Resume: Highlight any relevant education, extracurriculars, and prior volunteer or legal work.
Craft a Strong Cover Letter: Create a unique cover letter for each application, highlighting your passion for the position and your qualifications.
Prepare for Interviews: During interviews, be prepared to present your goals, legal interests, and problem-solving skills.
Network: To meet people in your target field, go to legal events, seminars, and webinars.
Seek Guidance: For insightful counsel and suggestions, speak with mentors, teachers, or career counselors.
Persistence: Don't let rejections demoralize you. Continue to use and improve your strategy.
Career Paths After Law Internships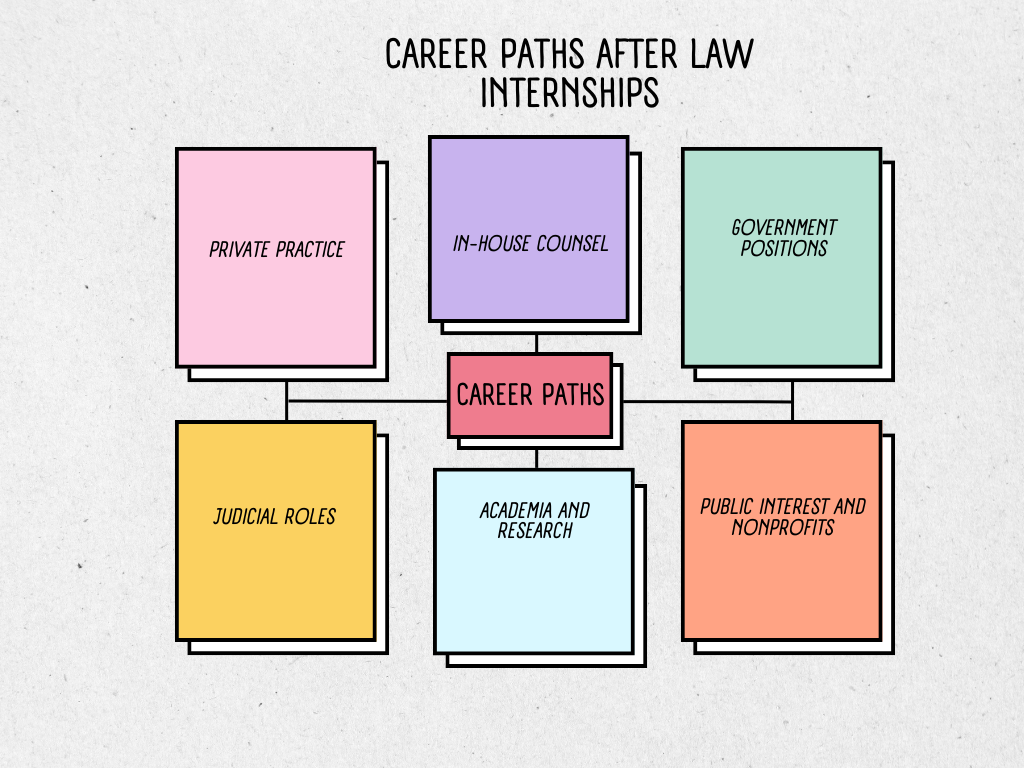 Completing a law internship opens doors to a variety of career paths within the legal sector. Here are some options to consider:
Private Practice: Many law students who complete internships move on to work as associates in legal firms, where they might focus on fields including business law, litigation, family law, or criminal law.
In-House Counsel: Former interns are frequently hired by corporations and enterprises as in-house counsel to solve legal issues unique to their industry.
Government Positions: Legal interns are employed by government departments and agencies as legal officers, policy analysts, or legislative consultants.
Judicial Roles: The internships that some law students do can serve as a stepping stone to careers as judges or magistrates.
Academia and Research: Academically-inclined law interns may continue postgraduate courses and eventually work as law professors or researchers.
Public Interest and Nonprofits: Legal internships with nonprofits and public interest organizations can lead to rewarding jobs in fields including social justice, environmental law, and human rights.
Charting Your Path in Business Law and Ethics
Law internships are your doorway to success as you set out on your path to a rewarding legal profession in Australia. They give you the resources, information, and relationships needed to succeed in the legal sector. Your internship experiences will surely mold your perspective and skills, whether you're working on your business law and ethics assignment project or investigating law and ethics assignment in different sectors.
Unleash your potential by looking for legal internships, seizing chances for advancement, and constructing a promising future in the vibrant field of Australian law.
Are you prepared to start the journey to a lucrative legal career? Explore our in-depth guide to law internships in Australia to learn about the many options available to you. Begin your journey right away!