Introduction
It's admirable to pursue a nursing profession in Australia, but it's important to realize that there are various processes involved in becoming a licensed nurse there. It makes sense to be curious about how long and what the process comprises if you're thinking about enrolling in a nursing program in Australia. This thorough guide will take you through the process of getting ready to become a nurse in Australia, covering all the important details. Let's begin your journey towards a rewarding nursing profession in this stunning nation.
The Path to Nursing in Australia
To become a registered nurse in Australia, individuals must complete several essential steps. Here's a breakdown of the key components of the process:
1. Educational Requirements
The first step in becoming a nurse in Australia is to complete the necessary school qualifications. In Australia, a recognized nursing program must be successfully completed in order to earn a Bachelor of Nursing degree, an Advanced Diploma in Nursing, or a Diploma in Nursing. These programmes' run times can change: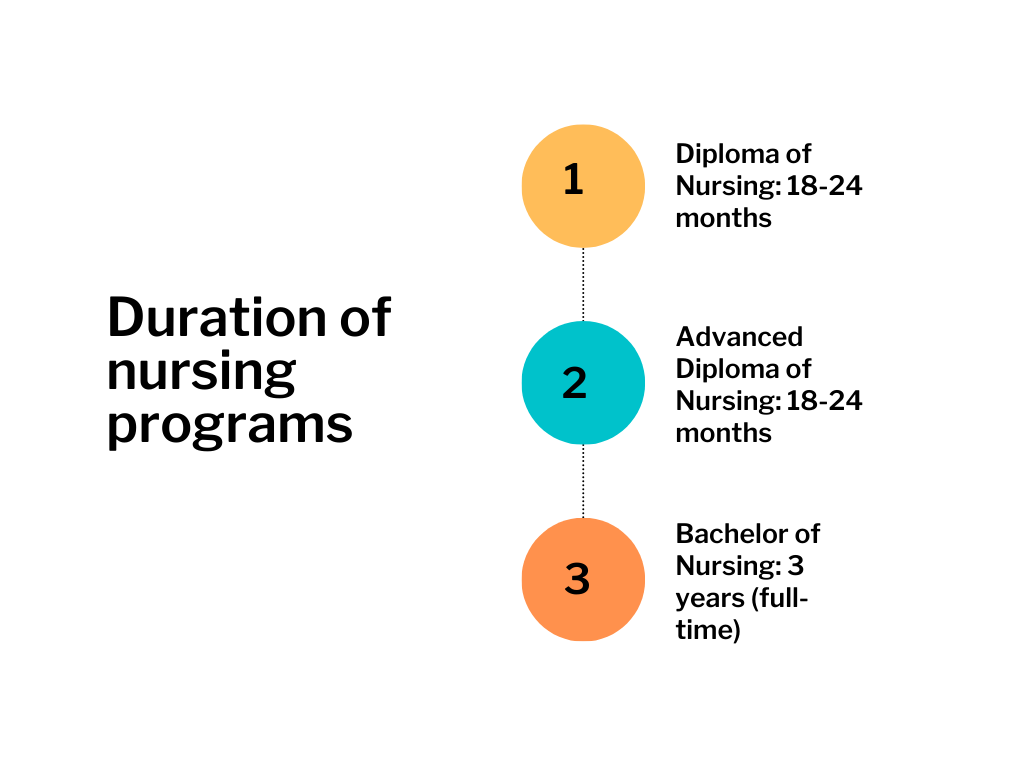 Diploma of Nursing: 18-24 months
Advanced Diploma of Nursing: 18-24 months
Bachelor of Nursing: 3 years (full-time)
Depending on the institution and the type of study (full-time, part-time, or online), the duration may vary. Make sure the program you select is in line with your educational priorities and career objectives.
2. English Language Proficiency
In Australia, nursing is a profession that requires English language ability. By passing an English language test like the OET (Occupational English Test) or the IELTS (International English Language Testing System), you may be required to demonstrate your proficiency in the language. It is important to pass the required exam in order to enrol in nursing programmes and register as a nurse in Australia.
3. Registration with AHPRA
The Australian Health Practitioner Regulation Agency (AHPRA) oversees the licensing of nurses and other healthcare workers in Australia. To practice nursing in Australia, you must register with AHPRA. The registration process requires you to complete AHPRA standards and regulations as well as present proof of your nursing credentials.
4. Nursing Care Plan: A Crucial Component
You will come across a variety of patient care facets as you advance through your nursing program in Australia, including the creation and implementation of nursing care plans. These strategies are crucial to delivering high-quality healthcare and are the main subject of nursing education.
Your nursing care plan will specify the precise treatments and actions a patient needs depending on their condition, requirements, and healthcare objectives. Planning in nursing care planning entails determining goals, determining actions, reviewing results, and evaluating the patient's health state. All registered nurses need to have the important capacity to develop efficient care plans.
5. Clinical Placement and Experience
In Australia, clinical internships are a requirement for nursing students who want to gain hands-on experience in healthcare settings. Students can practice what they have learned in the classroom, polish their clinical skills, and work under the supervision of qualified nurses and medical experts by participating in clinical rotations.
Clinical assignments could span anything between a few weeks and many months, depending on the nursing program. These experiences play a significant role in both your nursing education and your preparedness for nursing practice in Australia.
6. Planning in Nursing Care Plan: Ensuring Quality Care
Let's concentrate on the significance of planning within nursing care plans in the concluding paragraph. Planning is a rigorous process that guarantees the delivery of high-quality healthcare in nursing care plans. It entails: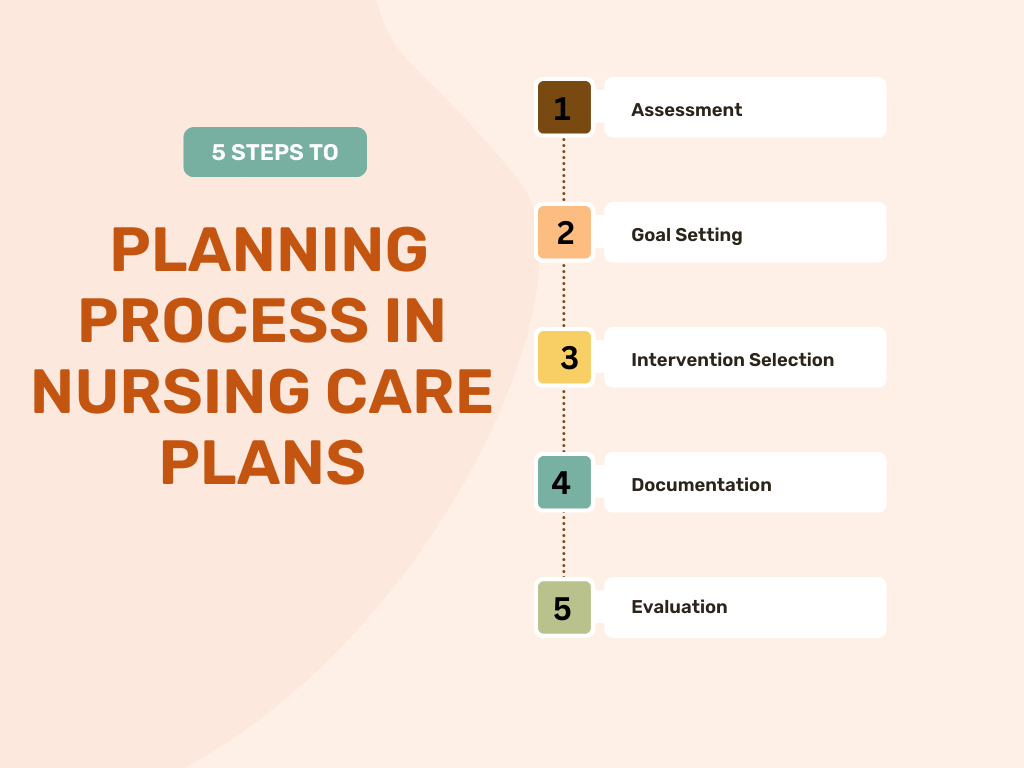 Assessment: Thoroughly assessing the patient's condition, needs, and preferences.
Goal Setting: Establishing clear, measurable goals for the patient's care.
Intervention Selection: Identifying appropriate nursing interventions and treatments.
Documentation: Keeping detailed records of the care plan and patient progress.
Evaluation: Continuously evaluating the effectiveness of the care plan and making adjustments as needed.
For providing patient-centered care, encouraging positive results, and guaranteeing patient safety, nursing care plans must be well-planned.
Conclusion
In order to become a registered nurse in Australia, one must complete the necessary school requirements, show competence in the English language, register with AHPRA, get clinical experience, and develop the skill of creating nursing care plans. The length of this process can change depending on your specific situation and educational career.
Keep in mind that each step you take in your nursing program in Australia will help you achieve your goal of having a significant impact on healthcare. You'll be well-prepared to give patients in Australia compassionate and knowledgeable nursing care if you embrace the obstacles and possibilities you'll encounter along the way.
Are you prepared to start your nursing career in Australia at this point? Explore our extensive resources on planning in nurse care plans to make sure you are properly prepared for this rewarding job. Begin planning your road to success today.
Ready to excel in planning within a nursing care plan? Discover our in-depth resources and gain the skills you need for a successful nursing career in Australia. Start your journey now!